Swedish Massage Therapy
Verdun, South West Montreal
One of the primary goals of the Swedish Massage technique is to relax the entire body.
Benefits of Swedish Massage
Improved Blood Circulation
Read More
The movements during a Swedish massage session are intended to promote both blood flow while stimulating your body's natural lymphatic drainage which results in healthier and stronger muscles which now can carry you on with life with lesser chances of "burn out"
Increases Overall Energy & Mood Booster
Read More
We have so far heard from the amazing benefits of the physical body, but did you know that research shows receiving a massage increases serotonin and dopamine levels on the recipient which leads to an increase of energy and acts as a mood booster, improving their mood and feeling of emotional well-being.
Read More
Daily lives happen to be filled with often blissful and very stressful events with a combination of bad postures and bodies kept in low maintenance, all of this resulting in rock hard necks and back, muscle rigidity also known as "Tension". Swedish massage offers gentle but effective bodywork.
Read More
How many times do we actually pay attention to how we are performing our tasks? While postural imbalance has many sources, including overworked muscles by doing repetitive movements, and overcompensating muscles in the aims of fixing the imbalance which actually creates a bigger imbalance in our bodies. It could also be the result of our very sedentary lifestyles, or even certain injuries. Swedish massage can help you loosen up so your body can return to its natural posture.
Improve Sleeping Disorders.
Read More
Insomnia can be very difficult to deal with, resulting in lowered overall energy that can lead to increased stress levels, anxiety and even depression. Not to even mention that sleep deprivation can be really mentally exhausting creating the perfect scenario for a burn out. Swedish massage offers a relaxing and calming effect on the parasympathetic nervous system which is the main channel for our brain to communicate to our bodies.
Stress Relief & Relaxation
Read More
Work may be the main cause of Stress, but we gotta admit we all stress out about something, maybe not everyone but most of us. Humans tend to forget to slow down and let your body rest and take a break, and some situations we find ourselves might not even allow us to do that. Swedish massage is an amazing therapy to help you manage your stress., The long strokes and movements, reduce muscle stiffness resulting in improved overall stress levels and increased relaxation.
Read More
It's noticeable that for people who suffer from conditions like arthritis or fibromyalgia, who are suffering from chronic pain as a result, Swedish massage has amazing results as decreasing pain is the most organic possible way. Make sure to effectively communicate with your therapist to help target those problematic areas to assure receiving the right therapy for your own beautiful body.
About Swedish Massage
As the best-known type of bodywork performed today, one of the primary goals of the Swedish massage technique is to relax the entire body. This therapy is exceptionally beneficial for increasing the level of oxygen in the blood, decreasing muscle toxins, improving circulation and flexibility while easing tensions and muscle rigidity.
This type of massage has a little bit of everything, in terms of muscle work, including some long and light covering strokes, stretches, rhythmic tapping strokes and gentle joint movement. Swedish is a very effective therapy for stress management, insomnia, tension, anxiety and leaves you feeling like "floating on the clouds" type of thing.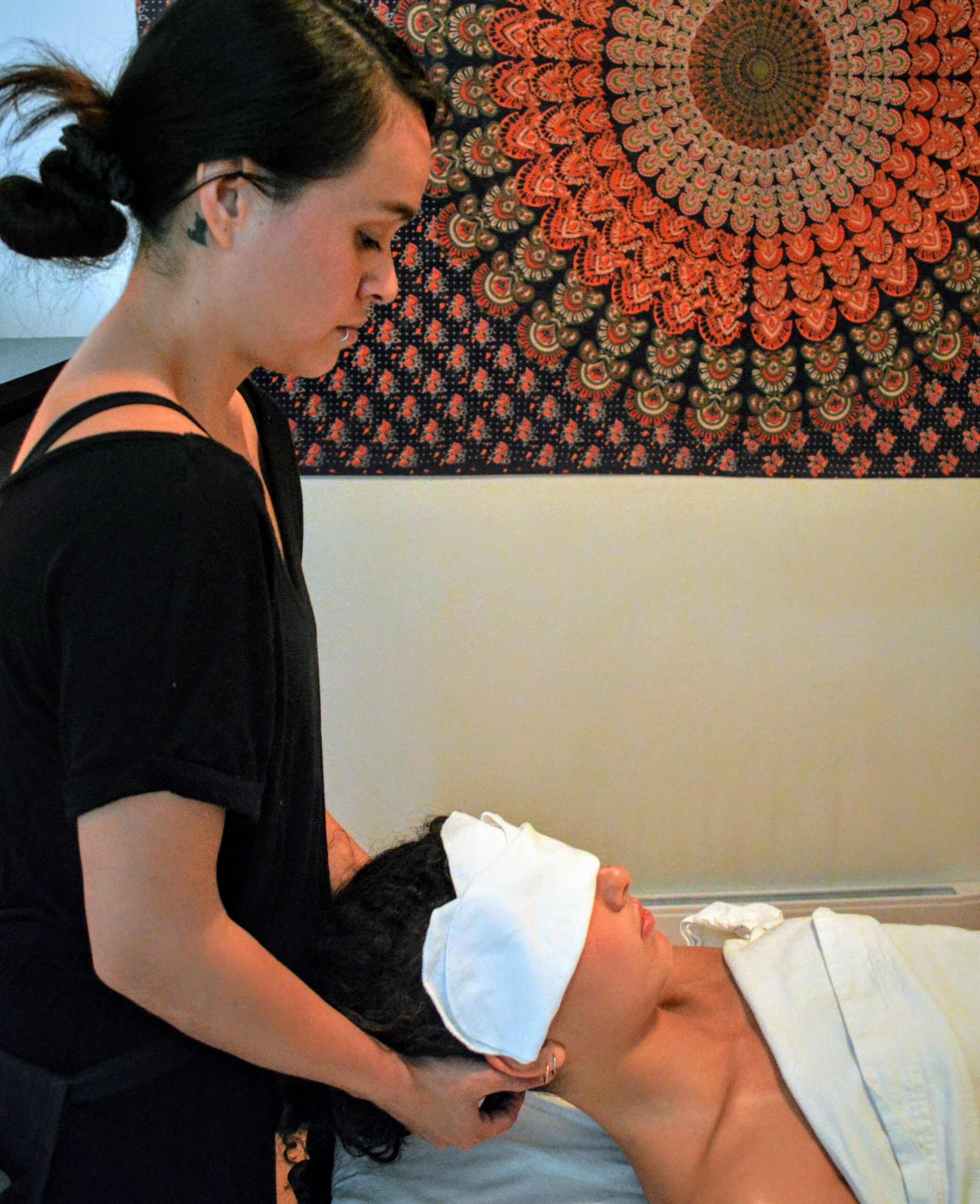 What to Expect from a Treatment
All massages are done with a blanket covering the whole body from neck to toes. Massages are best performed naked or in bottom underwear, you will have full intimacy to change a place yourself under the blankets and to dress up at the end. My priority is your comfort, so, please let me know if you ever feel cold or too warm, if the pressure is too light or too strong, and please communicate with me in detail at any time before, during or after your session if anything arises.
Make sure to share all specific spots of tension, after all, I need all the information I can gather to adapt to your own needs. Remember that deep breaths greatly ease the discomforts that may arise during a massage.
Most massages are performed with an hypoallergenic gel, Artisanal body butter or a mix of both. For therapeutic massage, I may use arnica and some other products that work on reducing inflammation, creating heat and easing pain.
For harmony massage, the use of aromatherapy is added to the list of products. Deep tissue massage is performed without any oil or products.

"Ariane's massages are amazing!"

"Ariane puts her full heart and soul in everything she does, including her wonderful bodywork!"

"A wonderful personalized service."
The association of professional hands, relaxing music, and amazing natural exotic oils, all in an intimate space, made my experience incredible! +1 also for the warming table that is super enjoyable in the cold season! Ariane took care of the tensions I had in my back after years working behind a computer and now my body feels so much better. I should have done that earlier! To take care of your body, you can trust her skills!
I've been living in Montreal for eight years and Arianne is now my go to person for therapeutic massage. She has a great deal of knowledge and really understands massage. I will be a long time customer as a result.
Ariane's massges are amazing! She really listens to what you want. In my case, I have a lot of pain/knots in the upper and lower back so I like a deeper massage and she does it great! Her setup is very calming and welcoming.
Thanks for the great massages Ariane 🙂
Ariane's massages are amazing! She really listens to what you want. In my case, I have a lot of pain/knots in the upper and lower back so I like a deeper massage and she does it great! Her setup is very calming and welcoming.
Thanks for the great massages Ariane 🙂
I had the pleasure of having quite a few massages from Ariane, and it's always been an experience of wellness and extreme relaxation. Ariane is very professional, and especially attentive to your need and comfort. I would definitely recommend her services!!
She really knows where the body holds tension and how to let go of it on an emotional level through breathing. Her touch is really relaxing and when she removes the tension it does not hurt. I highly recommend her as your massage therapist; she's intuitive in her approach to massage.
Michelle Lepage
2022-10-08
Amazing massage in a very calm and professional environment.
Yann Thibodeau
2022-08-18
La meilleure de Verdun et potentiellement de Montréal je la recommande fortement!
Un massage impressionnant à ce jour le meilleur que j'ai reçu, mes douleurs aux épaules et au cou ont disparu. Je recommande les massages d'Ariane à 100%
Alexandre Gagnon
2022-08-11
The service I received was top notch and the price more than fair! Would highly recommend to anyone! Also I was so relax at the end I forgot to tip, sorry Ariane!
Ariane has a deep attention to details and cater her service to make sure your physical pain or issues are properly tackle. She is a person who is full of positive energy which is very pleasant!
Catherine Ayotte
2021-07-17
Meilleur massage depuis longtemps! Merci Ariane!
I loved my massage!!! Ariane is very intuitive and knew exactly how to care for my scoliosis. She was super attentive and made sure to get out all my knots. Thank you ✨
Ariane is not only attentive to your needs but also very keen on making you feel extra comfortable throughout the whole session. She's a brilliant massage therapist with a warm touch who has mastered her craft. As a massage therapist myself, I highly recommend her services. She's excellent!
François Rodrigue
2021-06-29
Elle est divine...Un bel écoute, et un savoir faire impressionnant !!!
Jonathan Patenaude
2021-06-26
Wow!! Massage quasi parfait! Le meilleur que j'ai reçu depuis plusieurs années! Je recommande Ariane sans aucune hésitations 🙂
Contact Me
Ask a question or book an appointment below. 
821 2e Avenue, Verdun, Montreal, QC, H4G 2W7