Deep Tissue Massage
Verdun, South West Montreal
Deep tissue massage is most commonly used to treat musculoskeletal issues, such as muscle strains or sports injuries.
Benefits of Deep Tissue Massage
Read More
People who suffer from chronic pain mostly related to sports injuries, musculoskeletal conditions, and people who are on the slow train of recovery after an accident or operation, and even people who have very specific problematic areas in the body. Deep tissue massage offers a deeply focused type of bodywork that can help you manage your pain. Make sure to effectively communicate with your therapist to help target those problematic areas to assure receiving the right therapy for your own beautiful body.
Read More
As it is known that muscles that have been injured need to be treated in order to heal. Deep Tissue massage offers a very complete treatment that can support and sometimes accelerate your process of healing, while it treats the muscle condition, it helps break down scar tissue and depending on your issue even help unlocking your muscles to regain its natural full motion while taking care of your joints by promoting their lubrication.
Read More
Who hasn't experienced after a very hard routine of exercises some pain and muscle rigidity that end up in unpleasant sensations. Muscle rigidity also comes from long hours of sitting, standing and doing repetitive motions. Deep Tissue massage is probably the most efficient in solving these issues by targeting the problem, when dealing with muscular tensions that go beyond our stress levels and poor postures, this may be a good reason to try it out.
About Deep Tissue Massage
Deep tissue massage is most commonly used to treat musculoskeletal issues, such as muscle strains or sports injuries. It's a technique which is done skin to skin, with no oil to lubricate the maneuvers, that concept actually comes by hand with working on the deeper levels of muscles, applying oil would not only be less efficient while targeting depth that this technique is known for.
Deep tissue involves applying sustained pressure using very slow and very deep strokes to target the inner layers of your muscles and connective tissues. This helps to break up scar tissue that forms following an injury and reduce tensions. The therapist may use hands, forearms and even elbows depending on the focus of your session. Like, Therapeutic massage, Deep tissue also targets one specific problem of the body.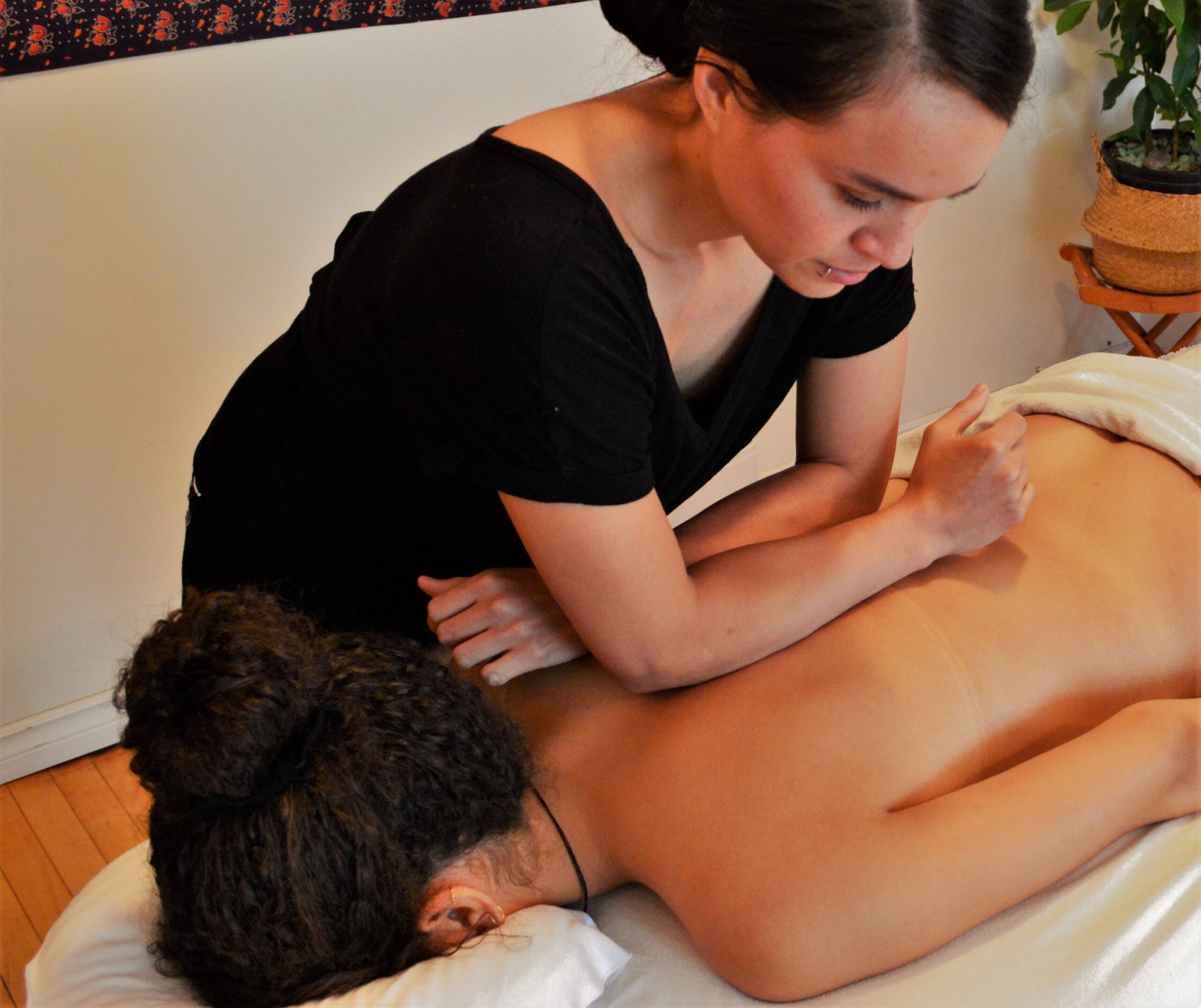 What to Expect from a Treatment
All massages are done with a blanket covering the whole body from neck to toes. Massages are best performed naked or in bottom underwear, you will have full intimacy to change a place yourself under the blankets and to dress up at the end. My priority is your comfort, so, please let me know if you ever feel cold or too warm, if the pressure is too light or too strong, and please communicate with me in detail at any time before, during or after your session if anything arises.
Make sure to share all specific spots of tension, after all, I need all the information I can gather to adapt to your own needs. Remember that deep breaths greatly ease the discomforts that may arise during a massage.
Most massages are performed with an hypoallergenic gel, Artisanal body butter or a mix of both. For therapeutic massage, I may use arnica and some other products that work on reducing inflammation, creating heat and easing pain.
For harmony massage, the use of aromatherapy is added to the list of products. Deep tissue massage is performed without any oil or products.

"Ariane's massages are amazing!"

"Ariane puts her full heart and soul in everything she does, including her wonderful bodywork!"

"A wonderful personalized service."
The association of professional hands, relaxing music, and amazing natural exotic oils, all in an intimate space, made my experience incredible! +1 also for the warming table that is super enjoyable in the cold season! Ariane took care of the tensions I had in my back after years working behind a computer and now my body feels so much better. I should have done that earlier! To take care of your body, you can trust her skills!
I've been living in Montreal for eight years and Arianne is now my go to person for therapeutic massage. She has a great deal of knowledge and really understands massage. I will be a long time customer as a result.
Ariane's massges are amazing! She really listens to what you want. In my case, I have a lot of pain/knots in the upper and lower back so I like a deeper massage and she does it great! Her setup is very calming and welcoming.
Thanks for the great massages Ariane 🙂
Ariane's massages are amazing! She really listens to what you want. In my case, I have a lot of pain/knots in the upper and lower back so I like a deeper massage and she does it great! Her setup is very calming and welcoming.
Thanks for the great massages Ariane 🙂
I had the pleasure of having quite a few massages from Ariane, and it's always been an experience of wellness and extreme relaxation. Ariane is very professional, and especially attentive to your need and comfort. I would definitely recommend her services!!
She really knows where the body holds tension and how to let go of it on an emotional level through breathing. Her touch is really relaxing and when she removes the tension it does not hurt. I highly recommend her as your massage therapist; she's intuitive in her approach to massage.
Catherine Ayotte
2021-07-17
Meilleur massage depuis longtemps! Merci Ariane!
I loved my massage!!! Ariane is very intuitive and knew exactly how to care for my scoliosis. She was super attentive and made sure to get out all my knots. Thank you ✨
Ariane is not only attentive to your needs but also very keen on making you feel extra comfortable throughout the whole session. She's a brilliant massage therapist with a warm touch who has mastered her craft. As a massage therapist myself, I highly recommend her services. She's excellent!
François Rodrigue
2021-06-29
Elle est divine...Un bel écoute, et un savoir faire impressionnant !!!
Jonathan Patenaude
2021-06-26
Wow!! Massage quasi parfait! Le meilleur que j'ai reçu depuis plusieurs années! Je recommande Ariane sans aucune hésitations 🙂
clari sant'anna
2021-05-22
Ariane is really awesome! She takes the time to work on whatever tension I'm having, and I leave feeling completely relaxed 🙂 The place is also really nice and the temperature is just right. Super recommend!
Ariane est à l'écoute de nos besoins et m'a donné un de meilleurs massage que j'ai eu.
Tracy B.Felton
2021-03-30
Most amazing massage therapist! She helped me so much with some of my back pains, she uses the best techniques and is definitely extremely competent in her field. So happy I found her.
Aleksandr Korobeinikov
2021-03-20
My to-go-to specialist:) Very meticulous, precise and actually does what it takes to help you with specific problems you may have. Deep tissue is highly recommended! Especially if you workout a lot. Difference in one's overall feel of well-being before/after a session is very noticeable. Try yourselves!
Catherine Gauthier
2021-03-19
This is by far the best massotherapeute I ever had. She uses a wide range of techniques and every time I have something wrong, she fixes it. I recommend her highly. Plus she is very nice and professional. A++
Contact Me
Ask a question or book an appointment below. 
821 2e Avenue, Verdun, Montreal, QC, H4G 2W7